https://i.postimg.cc/VvRtbc94/gnn9vuahvjeb.jpg
https://dood.sh/d/ej5li74oqc0b
https://evoload.io/e/KrKs8oIouGB08e
They say chocolate makes you fat if you eat too much. Today we are offering up several tons of hot mocha mamas we call Chocolate Chunka Lunks. These big beautiful black women have massive stomachs, ginormous juggs, and jiggly cellulite that hangs from every crease on their bodies. These big sistas gobble up skinny white guys like tiny little tooth picks.
Farrah Foxx has as ass larger than most bill boards, with thick rolls of fat layers running down her legs to her blubber filled ankles. She is a super-sized sista, with giant tits that hang down to the first of her 3 stomach creases. Peeling away the pigskin finds us a mostly hairless fuck box that has dark black lips and a raw red interior chamber. She crams a long rubber dong in and out of her before her skinny white man friend contemplates how he will be able to penetrate her. One of her thighs is bigger than his entire body, yet she drops to all fours, gobbles up his cock, titty fucks him and then spreads her thunder thighs and feeds him a taste of her box. She hops on top of him, nearly crushing the life out of him as she bounces her thighs around while her fat rolls cling to his cock. His cock is like a needle in a giant black hay stack but she likes what he is giving and gets off over and over before he pulls out and launches several strands of semen across her giant thigh and 3rd stomach region.
Crystal Clear is very large and totally in charge. She has dark skin and a pretty smile with short hair and attractive facial features. She turns heads wherever she goes because of her size. From her pudgy feet heading northward her ankles explode into fat covered knees, cellulite layered thighs and ass, a belly button deeper than most people's asses. Not to mention the 2 black watermelon tits that are capped with aureole larger than 2 giant dark black g****fruits. Between her fat folds lives a dark, afro-lined vagina which is dripping with fresh chocolate juices. She beaches herself like a giant black beluga feeding her baby white pup from her fertile slice. She starts to slush and foam and handles the white fishing line poking her between her thighs just fine. She gets it up and down and from behind too before handling a massive c um dump on her giant right butt cheek.
Thunder Kat (Cover Girl) is a super sized dark chocolate mama who has herself wrapped in pink high heels and one piece on top of the bright red hair she is sporting. Her tits are giant sized models and her ass is wider than a semi. Her pussy has been off limits for a long time, unreachable by any average man. Its wild afro grass has been allowed to flourish, hiding her purple colored vaginal interior. Her white boyfriend dives deep between her legs, using his tongue to flush her insides out. She toys with his cock, which is barely able to find the right crease in her bottom to plug. He is completely swallowed up by her and beat around as her giant sized butt cheeks slap his thighs. She asks for her ass slapped while getting it from behind and pendulum tits swing with great power. She starts to sweat like a melting chocolate bar all over his cock. He is nearly invisible as she sits on him, engulfing him with flab and blubber. He pulls out and power sprays her with large quantities of bright white jism.
Sabrina Love is a dark black beautiful large woman who needs some white meat and needs it fast. She is prepping her fat fuck hole with a rubber dong while playing with her 2 torpedo sized tits. Her fat cocked white boyfriend comes and fills this girl's trap chock full of dick. He taps her bottom and she likes what he is serving up, as she takes his white fatty well while screaming and cumming over and over again. Her extra body meat slaps all around before he finishes her off with a lightly scattered cum sprinkling across her giant stomach.
Chocolate Chunka Lunks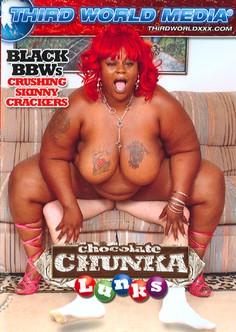 Added on: November 13th, 2020
Category: BBW, Ebony, Fetish, Gonzo, XXX Movies